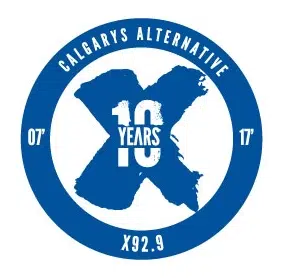 "So what do you do?" "I work in radio"
"Which station?" "X929"
"Are you a DJ?" "No, I'm the Program Director"
"What's that?"
My name is Christian Hall, and I'm X929's Program Director.
Now 10 years ago, when I'd get asked "what's that?" I'd say something like "I'm the Andy Travis", but that reference's success rate has dropped a lot over the years, so then I'd simply go with "some would say I'm the boss" but I hated that. So, for the past few years I've stolen a line Roger Kingkade once used for me; Chief Architect and Head Coach of the On-Air Team. (Sounds way cooler)
So enough about me, this is meant to be a love letter to everyone that's helped X929 make it to its 10th Anniversary.
Let's start with you the listeners.  My number one most favourite thing about you and all Alt-listeners out there is your insatiable appetite for the new and unknown. It's so strong, that even if we feed you something that tastes awful, not only will you stick around, but you'll forgive us and come back again and keep trying other things.
This is 100% unique to Alternative radio, and you're in the minority. The majority love to wrap themselves in their same familiar blanket of listening to rinse, lather, repeat every day, and that's totally fine. We all have those favourite records that never get old. But an X-listener needs more than that, so much so you'll drive blind with us to experience new sounds you may hate, just to get that hit of something new you'll love so much that it made the trip worth it. (Pretty poetic, right?)
 And we feel that too, that same rush we get from hearing something new that's so awesome we can't wait to play it for you, is the same rush we get when we lob a giant question mark on the air only to hear you gobble it up and love it all the same. Sure, not every song is gonna be a smash, but that willingness to try anything mixed with the forgiveness to stick it out past the songs that don't hit your sweet spots makes you all very unique and without that essential ingredient, it's unlikely you'd be a listener.
That same willingness to listen to new and different sounds can definitely be extended to the on-air team. To say we've had a cornucopia of personalities on X would be an understatement. And like the songs, not every single one was going to hit your sweet spot 100% of the time, and that's the point. Who wants the same show from different people all day and night? (Not me) My number one challenge to the air staff all these years has been simple. Make an impression; cut through all the noise, and be heard. (this is where I get super nervous and hope I don't leave anyone out)
So thank you to all who've contributed a show on X929 these past ten years. Without Fraser Tuff, Roger Kingkade, Candice Knihnitski, Chris Lynch, Josh Holliday, James Callsen, Evan Baran, Jay Osbourne, Danielle Strueby, Darren Ollinger, Alan Cross, Chris McCloy, Greg Beharrell, Seth Armstrong, Carly Meyers, Matt Berry, Marcello Palombi, Malissa Dunphy, Carmen Cruz, Lori Gibbs,  Tyler Middleton, Seanna Jefferson, Graham Mosimann, Andrew Beckler, Alex Carr, and Marc Michaels this place would have been a lot duller.
With all the on-air changes over the decade, it's been the complete opposite with my programming team as they've been with me since Day 1. You've heard of Lynch, he's that on-air guy, that also happens to be our Music Director (and apparently he's won a few trophies for this as well) who sniffs out all these songs way ahead of most people out there. The best part of having Lynch as my MD is he's so damn likeable by bands and labels that no matter what we (translation = I) do to upset them, they always forgive us because they love Lynch so much. (many surly husbands with amazing wives know EXACTLY what I'm talking about) The other members of the programming team are the Assistant Program Director, Marketing Director, and Promotions Director, who all happen to be the same person. I'd be lost without Ginette Ouimet, let's just leave it at that.
(my inability to edit myself shows exactly why I'm not on the air…or blog)
I'll try and wrap this up by thanking everyone behind the scenes at X as well. It's a great crew behind the curtain that's larger than one would think and while we may butt heads on occasion, it's all in an effort to see X succeed. This includes the sales team, the creative & production crew, the traffic squad, the promo department, the street team, the admin force, the accounting posse, the web head, engineering and of course I.T.
Finally, a personal thanks to my boss and VP Cam Cowie, and our station owner Paul Hill, who not only gave me this blank canvas to paint with every day, but not once has questioned the colour choices along the way, and this includes playing the same song for 13 hours straight or launching a station on January 1st, 2007 on a campaign that didn't describe who we were by what we played, but instead defined who we were by who we guaranteed to not play.
Thank you for being a part of the past ten years, this is the greatest gig I've ever had. I hope to thank as many of you in person next Friday the 6th at the Marquee for our Birthday Party, I'll be the guy wearing these.
Christian Hall
Chief Architect and Head Coach of the On Air Team