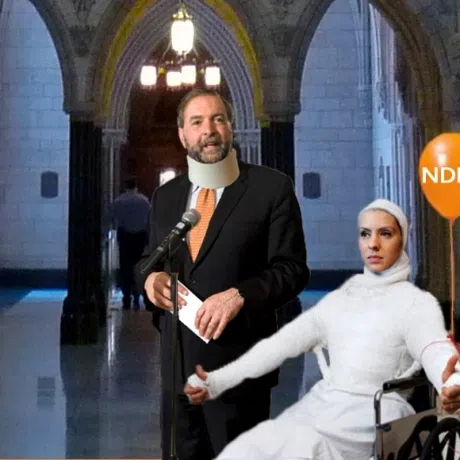 It seems like our entire country lost their minds over PM Justin Trudeau accidentally elbowing someone in the House Of Commons this week. If you haven't watched the video you can find it here.
Do I think he should've left his seat? Not really no, it's not his place. Do I think they were being children and blocking the guy from getting through? Yes. Do I think he intentionally elbowed the MP? No absolutely not. Do I think the NDP claiming it was an 'assault' and that it would be a 'jail-able offense outside of the House' is ridiculous and probably offensive to anyone who has ever actually been assaulted? Absolutely. It's like they didn't realize we could all watch the video.
It basically looks like he went full Dad-mode and dragged his kid out of a playground scuffle. Up next he turns this car around and we all go home.
Some good did come of the 'brawl' though, and that was a fantastic satire article by The Beaverton titled "Entire NDP caucus arrive in neck braces, wheelchairs to House of Commons after Trudeau's assault".
Of course my mom has no idea what the term 'satire news' means. So as we usually do we sent her the article and made here believe it was real. It was going great until she hit me with a wicked burn. Find that here!